It's time you feel your best.
A Nutritional Therapy Practitioner to help you transform your life through real food.
Overcome Chronic
Health Problems
Feel Supported In
Your Journey
You're more than your symptoms.
You want a real solution to your health problems that gives you your life back. But when you've tried everything and still experience chronic headaches and digestive problems, you might feel like getting healthy is nearly impossible.
You deserve to live your life and not be controlled by your symptoms.
Uncover the real cause of health problems, such as:
Painful Digestive Issues
Heartburn and Acid Reflux
Brain Fog and Fatigue
Anxiety and Depression
Hormonal Imbalances and Painful Periods
Autoimmune Diseases
Blood Sugar Imbalances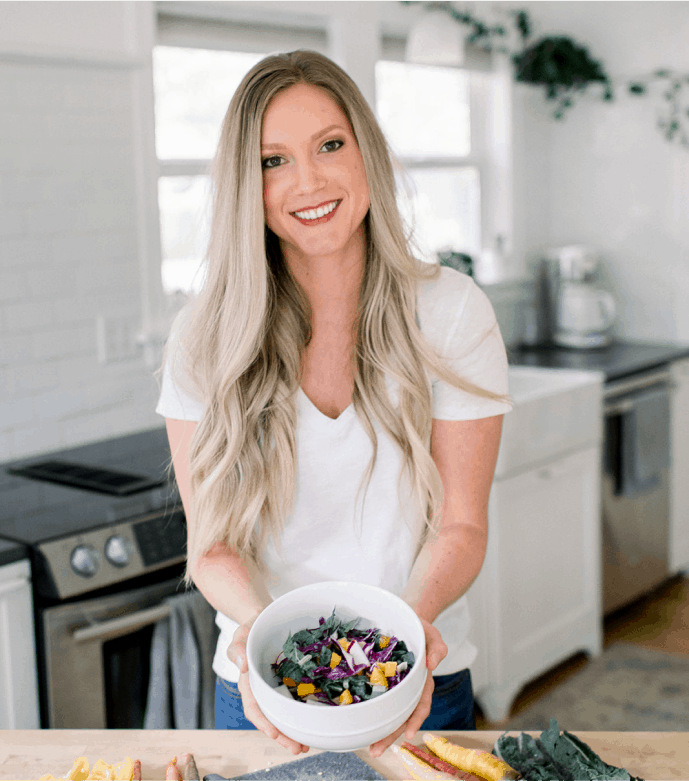 I know just how you're feeling.
At 25, I was diagnosed with Crohn's disease. I tried everything to feel "normal" again. Blood tests, medications, appointments with specialists -- you name it. But after taking my health into my own hands, my symptoms have disappeared.
Your story probably isn't that much different from mine. Feeling like your symptoms control everything you do is no way to live. You deserve for your body to work as it was designed.
My health journey inspired me to teach more people about how food and health are deeply connected. As a Functional Nutritional Therapy Practitioner, I help people just like you find long-lasting relief from their symptoms so that they can become healthy and savor life.
Heal Your Body
Give your body what it needs to heal so that you can enjoy more of life.
Understand Your Body
Work to uncover the root cause of your symptoms so that you can find a long-lasting solution and help your body heal itself.
Improve Your Health
Dive deep into your health history and get a personalized plan specific to your body's needs so that you feel your best.
Find Support
You don't have to feel alone in this journey. Get reliable support and guidance from someone who understands what you're going through.
"Only 6 days in my sinuses had cleared up without any use of an antihistamine. I forgot what it was like to be able to talk, sing, and sleep without constant sinus drainage. The inflammation in my feet, legs, and hand is almost totally gone, as well as my arthritic pain, which was something I had written off due to my age (65yrs). But these issues are now almost non-existent!"
Steve A.
Ready to enjoy a vibrant life?
You deserve so much more.
I know that you want a real solution to your health problems that heals your body and helps you feel like yourself again. But when your symptoms control your life, finding relief feels hopeless. You've almost accepted that life will always be this way.
But it doesn't have to be.
As a Functional Nutritional Therapist who was in your shoes for years, I help people uncover the root cause of their health problems so that they can make healthy changes that bring renewed hope and energy to their life.
Schedule a consultation with me and I'll help get you the support and resolution you need to become the most healthy version of yourself!